Brief history
Modern Technology Ltd was founded by our Chairman and CEO Mr Delwar Hossain in 1999 as Bangladesh Check Technology Ltd. At the time Mr Hossain had over 20 years of overseas experience in procurement working for some multi-national organisations which include the HSBC and the Inter-Continental Hotel in the Middle East. His specialisation was procurement in the printing industry which dates back to his family business, a printing press, run by his father in the 70s.
Having gained over two decades of experience Mr Hossain setup his own business in Dhaka in 1999 and due to his extensive knowledge and experience within the sector, soon became quite successful. The company developed clients in both the private and public sectors and became the local agent in Bangladesh and South Asia for a number of renowned world class manufacturers from across the globe including Europe, India and China, for printing machineries & equipment, various types of security papers and accessories. The list of manufacturers currently represented are listed under the Partners section.
Following the success of the printing sector, the company evolved and started exploring other sectors by 2006 which gradually included construction, medical equipment & accessories and defence. By this point the company was renamed as Modern Technology Ltd to cover the broader scope of the business which was now beyond the printing industry.
Construction Sector
MDT's experience in the construction sector started in 2008 as a sub-contractor for providing dredging works in the high profile Hatirjheel project in Dhaka for the Bangladesh Army, followed by sub-contracting works for the same client at the Kurmitola Golf Club. We have provided consultancy services to various Indian and Chinese contractors to facilitate their endeavours in exploring the construction market of Bangladesh.
Our key strengths lie in our contacts within relevant government organisations and the ability to provide local support to large infrastructure companies to enable them to seamlessly establish their presence in Bangladesh. Leveraging our contacts, we are able to organise meetings with key government personnel within reasonable time frames and also our understanding and knowledge of local processes within government organisations mean that we are able to expedite lengthy red tape processes by following up with the right channels.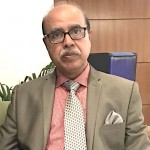 DELWAR HOSSAIN
CHAIRMAN